Kitchen Remodeling
Portland Kitchen Remodeling | IBI Construction
Make Your House Memorable!
50% Off Remodeling Designs
This is a $2,500 Savings on Average.
Certain terms and conditions apply. Ask us for details.
Portland & Surrounding Areas
Kitchen Remodeling Services
IBI Construction is the local kitchen remodeling expert you have been searching for. We are a professional contracting and design consulting service with over 40 years of experience. We see you through every step of the remodeling process from beginning to end. An updated kitchen can transform your entire home, so get started today by letting us know what you have in mind for your kitchen remodel.
With our use of superior products, custom designs, and decades of experience guiding the decision-making process, you can count on IBI Construction. Contact us now to schedule kitchen remodeling services for your property, or click the links below to learn more!
Kitchen Upgrade Advantages
We encourage our clients to consider kitchen upgrades or remodels for several reasons. Check out the top four reasons why we recommend remodeling your kitchen with the help of our experts:
Improved Functionality
Being able to rework the layout of your kitchen is one of the best advantages of kitchen remodels. The functionality and flow of your kitchen layout should be conducive to safe cooking practices. When you work with our designers and kitchen remodeling contractors, we make sure the layout of your new kitchen makes it easy to cook and serve meals.
Increased Value
An updated or remodeled kitchen is sure to add value to your home. Regardless of whether or not you plan on selling your home any time in the future, keeping your kitchen updated with new appliances, flooring, cabinets, and other features is a great idea.
More Storage
Older homes may have kitchens with limited storage or storage that is inadequate for your family. When you remodel your kitchen with help from IBI Construction, you can count on our designers to offer suggestions that will optimize your square footage and give you the most kitchen storage possible.
Updated Look
With how much time you and your loved ones spend in your kitchen, why not invest in a remodel that will make everyone happy? Updating an outdated kitchen and bringing in modern elements is sure to be a breath of fresh air for the whole family.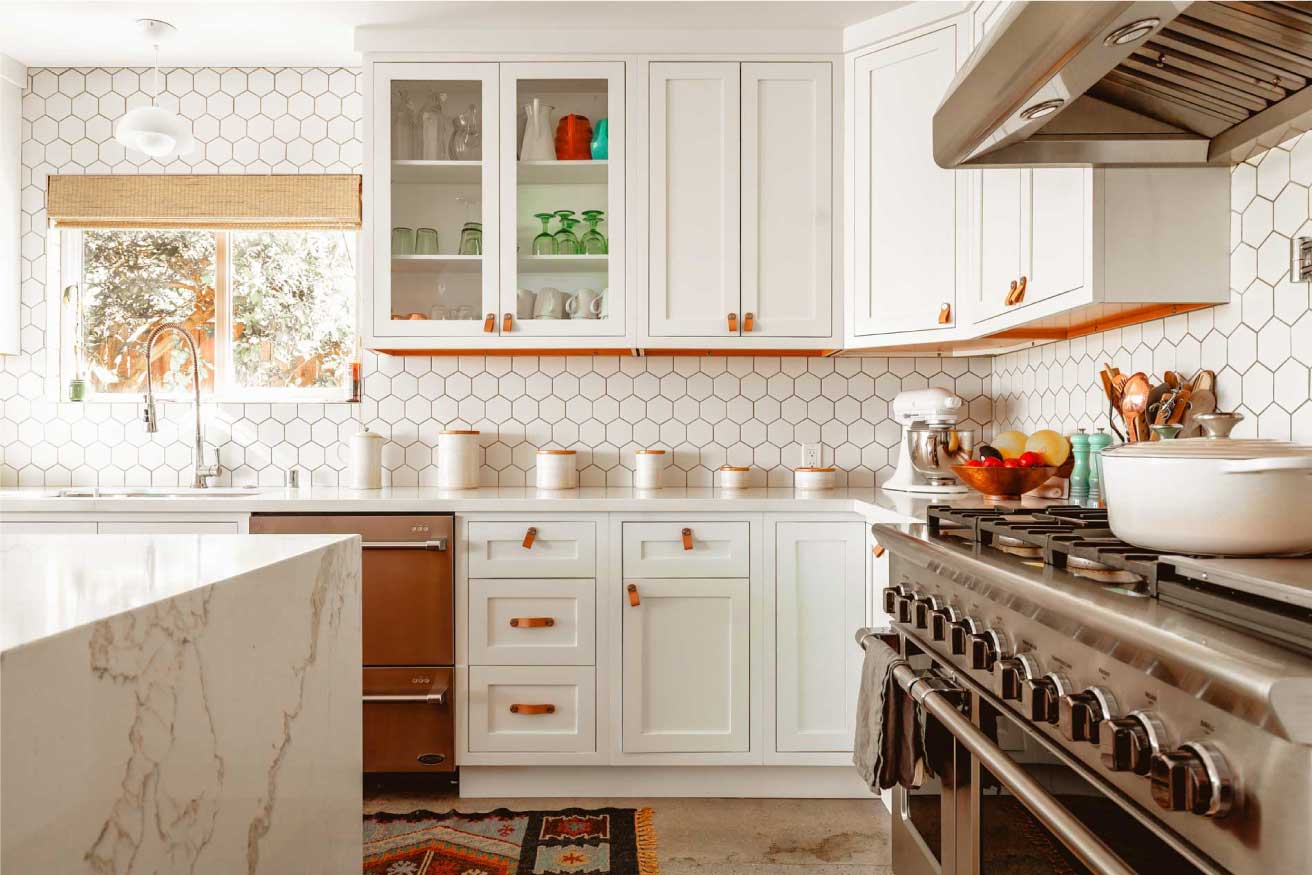 Portland
Experienced Remodeling Contractors
If you have been considering a kitchen remodel for some time now, you don't want to go through just any contractor. Instead, you should work with a company like IBI Construction. We only hire the most experienced and well-trained carpenters to join our staff. No matter how big or how small your kitchen remodeling project is, we have the team you need to get the job done right. From start to finish, our experts will ensure that your kitchen remodel is one of the best decisions you have ever made.
Kitchen Remodeling Ideas
At IBI Construction, we work closely with all of our clients to make sure the outcome of their kitchen remodel exceeds their expectations. Here are some of our top kitchen remodeling ideas that can instantly transform your kitchen:
Add a Kitchen Island
A kitchen island is something you should consider for your kitchen remodel. Adding a kitchen island can provide additional surface space for cooking, storage options, and even seating. No matter what size your current kitchen is, we can help you find an island that will fit the space and improve functionality when cooking or entertaining.
Install Open Shelves
Open shelves are a popular option for homeowners. They are a great way to display plates, bowls, and glassware. They also make smaller kitchens appear bigger and less closed off. Our designers can help you pick the perfect shelves that fit your style and match other elements of your kitchen remodel.
Upgrade Appliances
One of the simplest ways to update your kitchen is to install new appliances. Old and worn appliances almost instantly make any home look outdated. By replacing your stove, dishwasher, or refrigerator, you can instantly transform your kitchen. We work with excellent subcontractors for appliance installation and set-up. Let us know how we can help with any new appliance installations you have planned for your kitchen.
Install New Flooring
Don't forget about your kitchen floors. If you plan on doing a complete remodel, replacing the flooring at the same time is a good idea. IBI can help you choose the flooring you desire. Call us today to learn about different flooring options for your updated kitchen remodel.
Why Choose IBI Construction?
IBI Construction is made up of a team of professional building experts who have worked in the kitchen remodeling industry for decades. With our expertise, you are sure to receive the remodel you have always dreamt of. We will combine your vision, unique needs, and budget to come up with the perfect remodel plan that will complement your lifestyle.
With over 40 years of experience in the industry, you can trust IBI Construction. IBI holds itself to the highest possible standards of design, development, and construction. With high-quality materials, precise installations, and superior attention-to-detail, you can count on our team to provide the exceptional remodel you and your family deserve.
In addition to serving those in the Portland metro area, our team also works with clients in Lake Oswego, Oregon City, Tualatin, Sherwood, Tigard, Beaverton, Hillsboro, Vancouver, and SW Washington.
At IBI Construction, our mission statement is founded on customer-service oriented values such as transparency, integrity, honesty, respect, and courtesy. As one of our clients, you can anticipate effective communication and building a close partnership with our team. From the moment you start working with our designers to bring your ideas to life, all the way through to completion, you can trust that you are in good hands.
Take advantage of our competitively priced, professional kitchen remodeling services today. Contact our team now at (503) 388-6967.
Consult with Our Experts
If you are ready to get started, get in touch with our experts!
IBI Construction has decades of experience in kitchen remodeling and construction. Call (503) 388-6967 or click the button below to request a consultation.