Multnomah and Clackamas Counties
RESIDENTIAL AND COMMERCIAL ROOFING SERVICES
The right roof should stand up against harsh weather (meaning that Pacific Northwest rain we know all too well) and animal intrusion. IBI Construction is proud to be your local full-service roofing company in Portland, offering roofing replacements for residential homes and commercial buildings.
We bring more than 43 years of experience to the table, ensuring a quality roofing installation at a fair price. In addition to roofing replacements and new roofing construction, we provide roofing repairs. Our roofs have been proven to be waterproof, leak-proof, and durable, ensuring that they stay intact for years to come. Get in touch with our expert team today to schedule your Portland roofing replacement or repair.
SIGNS YOU NEED A ROOF REPLACEMENT
When should you consider a roofing replacement? Typically, the time is if and when you ever notice the following issues:
AGING ROOFING
Most 30-year roofs last about 27 years. A 10-year roof lasts about six years. (In general, you'll want to take the total years and subtract a few years due to normal wear and tear.) If you've noticed granule loss, multiple broken shingles, or worn-down roofing in general, it's time to give our experts a call. Most roofs should be replaced at the 20-year mark. Unless there is significant damage to your roof, a repair will likely be sufficient otherwise.
IMPROPER FLASHINGS AND WATER FLOW
If your flashing is not the right size, it won't be able to deter water and send it from your roof to the gutters. This can impact the water flow, causing it to enter your home or office and damaging what's inside. For this reason, you need a qualified expert who knows flashings inside and out to install the flashing for you–and inspect it to ensure that it's a perfect fit.
VENTILATION PROBLEMS
The right amount of ventilation in your attic is necessary to ensure that your roof doesn't get too warm. This can make your shingles crack or break, create condensation on the roofing, and cause mildew. If your attic isn't well ventilated, don't be surprised to see rusty nails and duct straps, as well as mold on the different parts of your roof. This can all affect your roof's integrity.
AND MORE
Leaking
Material degradation
Weather damage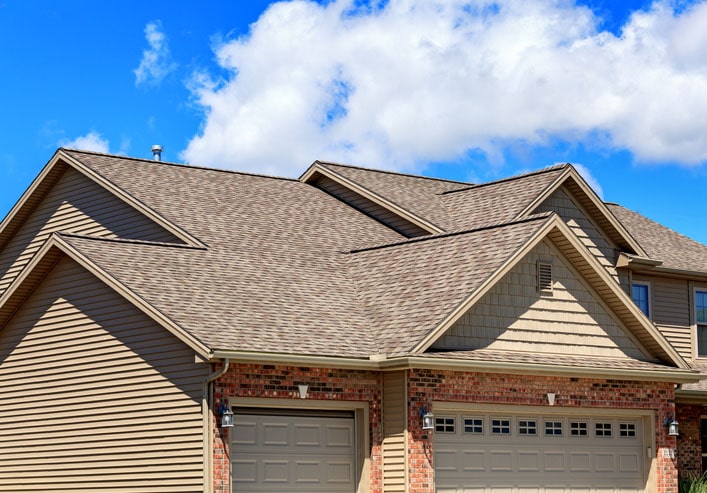 NEW CONSTRUCTION ROOFING
With new construction roofing in Portland, our team will handle your new roof from design to finish. Whether you're developing a new residential home or commercial space, we're here to help make the building envelope as strong as it can be with a high-quality roofing installation.
First, we'll work with you to create the design framework. We'll also take care of the underlayment and covering to ensure your roofing needs are covered. We'll pay special attention to the building's structure, ensuring the best type of roofing material for your needs.
Have a special roofing material in mind? Don't worry. We'll be sure to utilize your preferred materials, as long as they're in code and a good fit for your home or building. Some of the manufacturers we work with include Owens Corning, GAF Timberline, and Malarkey–all high-quality, trusted roofing providers here in the Portland Metropolitan area. With all of our roofing, we strive to provide an energy-efficient setup that lasts for years and is no match for the weather.
ROOFING REPAIRS
Our highly rated Portland roofing company is here to lend a hand with all of your roofing needs, including repairs caused by normal wear and tear. We can fix broken, split, or worn-down shingles in many cases without replacing the full roof–as long as the damage only affects a few shingles.
We can also repair flashing problems. If your previous roofing company did not seal everything up the right way, the flashing could leave an entry point for water, or you may have the wrong material, which can let in water and wear down the roofing materials all the same. We'll make sure this is taken care of so that it's no longer a concern.
Another thing we can help with is repair issues that pertain to the residence from the roof leaking, as we are a full-service general contractor. Your average roofing contractor does not have this level of experience.
When you work with IBI Construction, you can feel confident that our team members know what it takes to get a quality roofing installation and repair. We have a detailed understanding of flashings and offer quality assurance to ensure that our clients receive the best roof possible for their home or business.
WHY SHOULD YOU CHOOSE IBI CONSTRUCTION FOR YOUR NEW ROOFING INSTALLATION OR REPAIRS?
Our team offers decades of combined experience, ensuring the job is complete and done with the utmost precision and workmanship. With our team, you'll have confidence in the building envelope, knowing that your roof is installed properly, intact, and durable enough to withstand the rain, snow, sunshine, and more.
We have multiple experts on staff who are available to review your current roof for leaking whenever is convenient for you. Schedule a new Portland roofing installation today, and get the job done in as little as one week. (In some cases, we can complete a roof in only a couple of days!)
CONSULT ONE OF THE BEST ROOFING COMPANIES IN PORTLAND, OREGON
Get started with your roof replacement or repair in Portland, OR.
IBI Construction is your local expert for roofing in Portland. Give us a call today at 503-852-9487 to schedule a consultation, or click the link below to contact our team.