James Hardie Board Installation & Siding Repair in West Linn, OR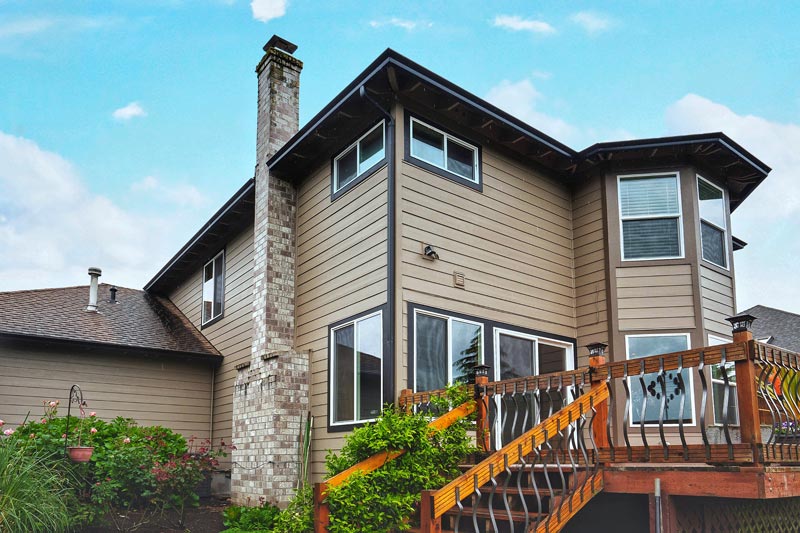 We are a Leading James Hardie Board Lap Siding and Vertical Siding Installation and Repair Contractor in West Linn, Oregon. Call (503) 852-9487 for a Free Estimate.
Nothing can change the look of your home faster than replacing your old worn-out house siding with new high-quality exterior James Hardie Board siding installed by IBI Construction. Aging and worn siding not only makes your home unattractive but allows the elements to creep into your home. New exterior siding is the perfect way to transform the exterior of your home and keep its curb appeal fresh and beautiful.
Our professional siding installers have been helping West Linn homeowners beautify the facades of their homes for over 42 years. With the latest innovations in plank siding technology, we're able to provide more thermal efficiency and less maintenance than ever before. If you dread having to get out the ladder, paint can, and scraper to repair the damage that the year's rain and ice have inflicted on your siding, we have the ideal solution for you.
When you work with IBI Construction, you can be sure you're working with the best siding contractors in West Linn. We may not be the least expensive, but it's because we only use the finest materials & handpick the best for our team, that's how we ensure 5 Star Service, every time.
When you trust IBI Construction for your siding installation or repairs, we guarantee that you'll have:
Increase curb appeal
Design versatility
Durability despite weather
Increase energy efficiency
Low maintenance
New siding goes far beyond making your home look beautiful. When expertly installed, the right siding product can protect your home from the Pacific Northwest elements. Replacing your home's exterior with high-quality James Hardie Board siding increases curb appeal, maximizes your home's energy efficiency and repairs and prevents structural damage.
If you're a West Linn resident looking to update your home with low-maintenance siding, look no further than the friendly experts at IBI Construction. We are proud to be a Northwest James Hardie Siding Products Installer, serving the greater Portland  Area for over 42 years. We are locally owned and operated and pride ourselves on providing excellent products and service to our customers.
Siding Contractors You can trust in West Linn
For residential siding that can bring your home into the 21st century, consider an investment that will increase your curb appeal, increase your property value, and protect your home for many years to come. Our experts live and breathe siding installation throughout West Linn, and they always go above and beyond to accommodate your remodeling needs so you can feel confident that your new siding will not only add value to your home but also help to create the look you've worked so hard to build.
Discover the benefits of James Hardie Siding for your West Linn home:
There are a ton of great benefits to using James Hardie siding, including being less expensive than alternatives and it's virtually maintenance-free. It's no wonder why more West Linn homes are choosing James Hardie lap siding.
Take the benefits of traditional siding and combine them with increased R-value and thermal performance and keep your home insulated. This siding is an energy-efficient option that helps keep your home cool in summer and warm through the winter.
Fiber Cement Siding or James Hardie Siding: This is an incredibly popular choice for our West Linn customers due to the variety in the design of James Hardie Board. When it comes to protection against rot, termites, and weather, there is no better option than fiber cement siding like James Hardie Board as an attractive cost-effective option for your home's new siding.
I've used IBI Construction quite a few times

"I've used IBI Construction quite a few times in both my personal and professional life. They have been responsive to my needs and have partnered with me to build a strong working relationship. They recently installed a privacy fence at my home and came back a few months later to repair damages caused when a tree fell on my house. Professionally, they have provided me with bids for projects and have been chosen when they submitted the best proposal. They do quality work and are reasonably priced. I would highly recommend you give them a call for any commercial or residential projects you might have."
~ The Jordans ~ ★★★★★
Request a Free Estimate
We hire the best people in the business so that we can deliver an exemplary product for every project. You will feel comfortable and confident in our team of highly skilled professionals, and you can be assured that they will get the job done.
You want the best Siding Installation Contractors in West Linn, OR
At IBI Construction, our attention to detail on installation projects is second to none—from the areas unseen to final sealing. Your new home exterior will leave you feeling proud, and the quality of our products and workmanship will give you peace of mind for the life of your home.
From the initial consultation through to the final detail, our professional team will work closely with you to ensure your project exceeds your expectations. For over two decades, our remodeling experts at IBI Construction have provided high-quality fiber cement siding installation and siding repairs to the residents of West Linn and everywhere in-between.
No matter what your budget, we'll work with you closely, hand-holding you through every step, to ensure we deliver amazing customer satisfaction.
We have over 42 years of installation experience
We only source high-quality materials

Award-winning service

…and more!
Cost of James Hardie Board Siding
in West Linn, OR?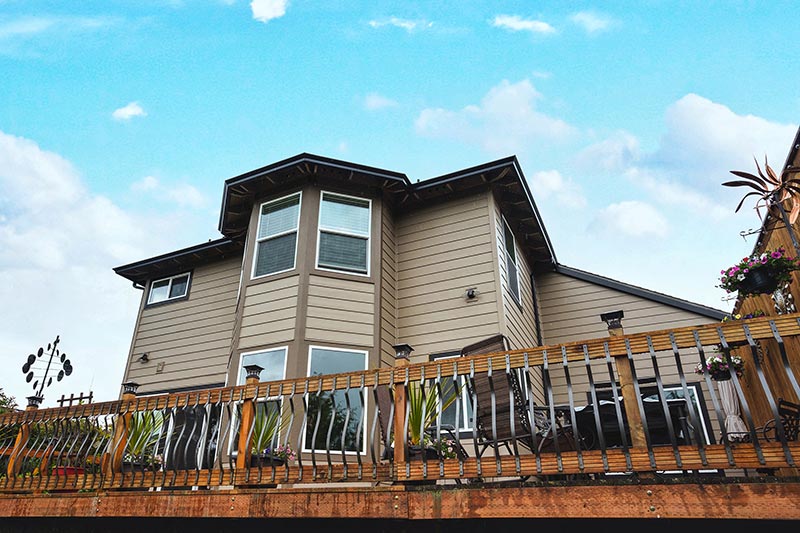 Estimating the cost for the home siding project can take years to master. That's why we always send out a professional estimator to ensure the pricing integrity of our quotes.
If you're a math guru, you can get a close guess by dividing the exterior of your home into squares and rectangles. Once you've separated those two out, use the simple formula for the squares. Square footage = height x length. And for the triangles use the formula: square footage = (height x length/2). Next, you'll have to factor in labor costs which can vary depending on which siding installation company you choose and the pricing of the materials you'd like to use.
Starting to see why we offer estimates for free? We spend a lot of time and energy accurately measuring homes so we can offer the best possible pricing in the West Linn area. Don't worry, we're here to take the stress out of this process and we're happy to provide solutions that fit within your budget. Reach out for more information, we're here to help!
James Hardie Plank Siding Installation in West Linn, OR
James Hardie products grace the sides of more than 8 million homes across North America—and for good reason! James Hardie makes the world's highest-performance fiber cement siding, trim, backer board and more. Baked-on ColorPlus® Technology has greater resistance to fading, chipping and cracking, meaning less maintenance for you. And all James Hardie siding products come with a 30-year, non-prorated warranty.
We only use the highest-quality Jame Hardie fiber cement siding available in the industry. This means that your James Hardie Plank siding is not only stylish and durable but it's also pre-primed and ready to be finished in a multitude of styles and colors to accommodate the look of your home.
In addition, to being impervious to weather, energy-efficiency, Hardie Plank siding from the home contractors at IBI Construction offers all of the following benefits:
Impervious to Weather: Due to its concrete fibers, Hardie Plank is impervious to any external elements, such as rain, hail, wind, flying debris, and humidity Cement board is so strong, it won't not chip and it doesn't retain moisture either; therefore it never rots or swells.
Defends against Pests: Hardie Plank defends against most insects, such as termites, that can eat away at your wooden siding.
Fire Prevention: Concrete fibers don't burn like traditional wooden siding, instead Hardie board is extremely fire-resistant, which will help protect your home from external threats.
We think Hardie Plank siding strikes a perfect balance between beauty, durability, affordability, and maintenance. The planks are actually made of a mix of wood pulp and cement, giving them the strength to withstand rot, termites, and even fire while looking just as natural traditional wood siding.
From Design to Completion. On-Time. On-Budget. Every time.
Get a Free Siding Installation Quote
A local West Linn, Oregon siding company you can trust!
We offer siding installation in West Linn, Oregon and a number of the surrounding cities below.
Portland
Clackamas
Lake Oswego
Gresham
Happy Valley
Beaverton
And everywhere in-between!
Your Satisfaction is Guaranteed
At IBI Construction we believe in doing a great job, every time, to your satisfaction. That's why we stand behind our work product. If you're not happy, we'll make it right. Our trained professionals follow all code requirements and manufacturer recommendations guaranteed.