Bathroom Remodeling
Portland Bathroom Remodeling | IBI Construction
Make Your House Memorable!
50% Off Remodeling Designs
This is a $2,500 Savings on Average.
Certain terms and conditions apply. Ask us for details.
Portland & Surrounding Areas
Bathroom Remodeling Services
Have you been considering a bathroom remodel for your home? IBI Construction is the local bathroom remodeling contractor you can count on. For decades, we have been offering bathroom remodeling services in Portland and surrounding cities. We use the best products in the business, and only hire the most well-trained and experienced construction experts to join our team.
From the initial design stages, all the way through the building and completion of your bathroom remodel, IBI Construction will see to it that the new bathroom you have always dreamt of becomes your new reality. Call now to schedule a consultation or click the links below to learn more!
Bathroom Upgrade Advantages
IBI Construction has helped countless homeowners across the Portland metropolitan area receive the beautiful bathroom remodels they deserve. Here are just some of the advantages you will enjoy when you work with our bathroom remodeling team:
Increase Your Home's Value
A new bathroom adds a great deal of value to your home. This is especially true if you end up installing a new sink, shower, or tub. When you work with IBI Construction, our designers and architects will recommend upgrades and renovations that are sure to add the most value to your home.
Increase Storage
When you work with our bathroom remodeling contractors in Portland, they will help you maximize your bathroom storage space. With innovative storage solutions and ideas, you can keep your bathroom organized. Schedule a consultation with our contractors now to learn more about how we can help you make the most out of your bathroom remodel.
Create a Relaxing Space
Whether you want a new bathtub, vanity, or other install, a bathroom remodel is a perfect way to create a calming and relaxing oasis in your own home. With decades of experience, our designers and architects will ensure your new bathroom is peaceful and soothing.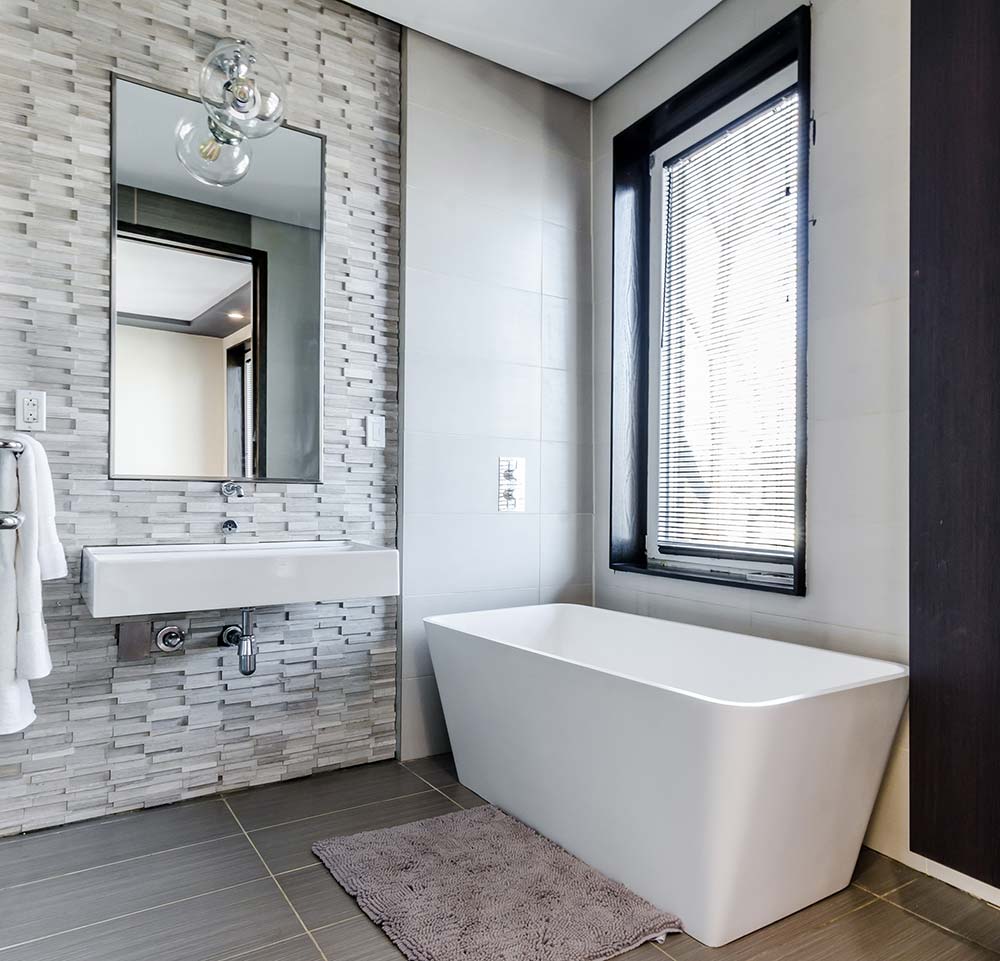 Portland & Vancouver
Professional Remodeling Contractors
Remodeling your bathroom is no easy undertaking. However, hiring the right crew makes all of the difference. At IBI, we pride ourselves on having one of the most elite construction crews in the business. Our bathroom remodeling team has years of industry experience, is professionally trained, insured, and capable of completing a variety of bathroom remodeling projects for our clients. You can trust our crew at IBI Construction every step of the way.
Bathroom Remodeling Ideas
At IBI, we have designers that have years of experience working with clients on their bathroom remodels. Here are some ideas our designers recommend to help you transform your bathroom and get the most out of your remodel:
Replace Your Mirror
If you want to make a big impact on the look of your bathroom without breaking your budget, try replacing your mirror. A new, modern mirror can instantly transform your bathroom.
Add a New Faucet
Another low-cost change you can make to your bathroom is a faucet replacement. We have plenty of options to choose from in terms of finishes, brands, and styles. A new faucet is a great way to update your sink without dipping too far into your budget.
Change Colors & Style
A new color scheme for the bathroom paint, towels, and other features will automatically upgrade your bathroom. Consult with our bathroom remodeling experts to come up with a color pallet for your bathroom remodel that fits your preferences.
Why Choose IBI Construction?
With IBI on your side, your bathroom remodel is sure to exceed your expectations. Our philosophy is centered around taking your dreams from design to completion. No matter how extensive or simple your remodeling plans are, our bathroom remodeling contractors can handle the job and deliver the remodel you have been waiting for.
IBI Construction has been in the business for over 40 years. Our team members have experience in all areas of construction and design. Our team holds itself to the highest possible standards of building and design. We are one of the top contractors in the Portland metro area, thanks to decades of experience and countless satisfied clients.
At IBI Construction, our mission is to offer high-quality, competitively priced construction and bathroom remodeling services. Our guiding values include transparency, integrity, professionalism, and fairness. With all of our projects and remodels, we strive to ensure that we exceed our clients' expectations. Our team will work with you every step of the way to ensure that your vision comes to life.
Get in touch with our bathroom remodeling contractors now. We will go over designs with you to pick the best layout, taking into account the architecture of your home or other space. Then, we will pair you with our expert building contractors to get started on your remodel. Once your project is complete, you are sure to love how your new bathroom looks.
We serve clients in the Portland metropolitan area, including cities such as Lake Oswego, Beaverton, Hillsboro, Tualatin, Tigard, SW Washington, and Vancouver.
Schedule a consultation with our bathroom remodeling contractors now at (503) 388-6967.
Consult with Our Experts
Get in touch with our bathroom remodeling experts today.
From design to completion, we will work with you every step of the way to build you the bathroom of your dreams. Call (503) 388-6967 now.